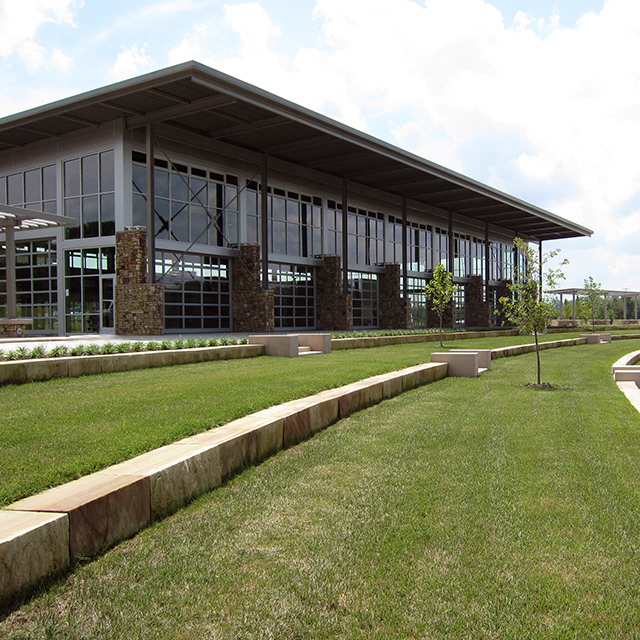 The 19,753 s.f. Wilma Rudolph Events Center (WREC) is the centerpiece of a $32,000,000 master planned waterfront development on the Cumberland River in Clarksville, Tennessee, known as Liberty Park and Clarksville Marina. The WREC provides convention and conference space and a terraced lawn outdoor amphitheater, while taking in some of the most picturesque views of the park and Cumberland River. The design team, along with city leaders and numerous end-users, developed a program that would meet the needs of a growing community and provide a facility for which the community was in dire need. Since its opening, the WREC has become the premier venue for community gatherings, large private events and a new outdoor concert series, Liberty Live!
Olympic gold medalist Wilma Rudolph, who was a Clarksville native, was born prematurely and contracted infantile paralysis at age four. She overcame major odds to become the first woman in history to win three gold medals in track and field during a single Olympic Games. The design team and community leaders collaborated to incorporate a statue into the overall composition in such a way that Rudolph's presence can be felt from anywhere within the facility. This soaring structure is a celebration of her determination and steadfastness including silhouettes on the exterior that depict Ms. Rudolph running to victory.
The layout  for the WREC is logical and  highly efficient. The open floor plan was developed to provide for multiple seating layouts, from large public functions to private events including fund-raisers, boat shows, wedding galas and other small convention style gatherings. Unobstructed views  from the Event floor provide a 180° panoramic view of the park, affording an amazing back-drop for any event. Large glass service doors open to the north, east and west, giving easy access to the event floor while also allowing the user choices of an "open-air" event that flows easily to the exterior or closed doors for a "conditioned" event. Toilets and Serving Areas can be accessed from the interior, exterior or both, depending on the needs of the user. Most importantly is the fact that the statue of Wilma Rudolph can be viewed from 95 percent of the Event floor, always providing a reminder of the buildings' namesake.
  SmithGroup JJR : Consulting Architect, Civil Engineering, Landscape Architecture   /   Westbrook Engineering: Structural   Harwood Engineering Consultants: Mechanical, Plumbing, Electrical