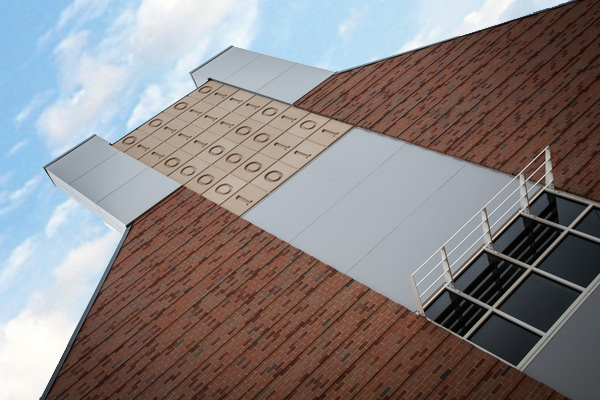 The 27,327 s.f. Maynard Building provides new educational spaces for the Mathematics and Computer Science curriculums. 
The goal to further develop a Mathematics and Science Quadrant on campus is met with this new facility nestled on the eastern edge of the campus. The building orientation provides a " STEM triangle of scientific connectivity" on campus with the adjacent Sundquist Science Center and the Hemlock Semiconductor Building. The building is integrally tied to a great plaza and green space which provides an opportunity for student interaction and connectivity to the major campus circulation paths. A central water feature on the plaza adds to the ambiance of the space. 
This classroom and staff office facility provides learning and administrative space for both the Mathematics and Computer Science curriculum's and includes computer labs and a major campus IT Server Center. Emphasis is placed upon good communication between staff and students by providing interactive nooks and gathering spaces along the paths of circulation within the building. Sustainable Design Guidelines adopted by the State of Tennessee are of major focus on this project. Building components are comprised of recycled materials and are of low VOC content. Abundant glazing is provided throughout to bring natural daylight to the building interior core spaces. All mechanical systems were designed to be highly efficient and the facility is tied into the campus-wide building automation program. Regional materials were also a primary focus of material selection.The learning experience is enhanced with interactive spaces and natural daylighting.
The Maynard Building received the 2014 ABC Mid Tennessee Chapter – Construction Awards Of Excellence 
                   DBS & Associates Engineering: Civil   /   K&S Engineering: Structural                    TLC Engineering for Architecture: Mechanical, Plumbing, and Electric
CONSTRUCTION MANAGER / GENERAL CONTRACTOR