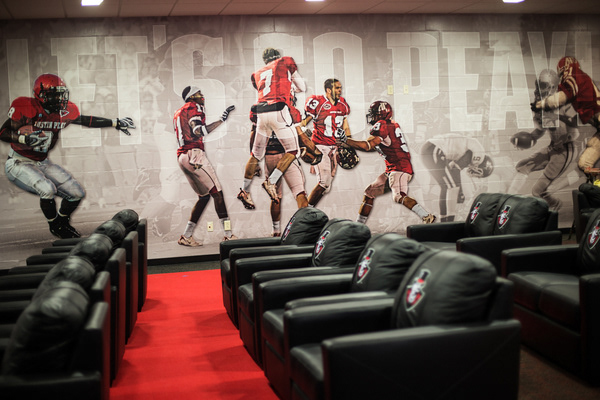 The  new Governor's Fortera Stadium provides a significant boost to all athletic programs utilizing this facility.  This new state-of-the-art football facility features premium accommodations for coaches, players and fans alike. The goal of providing a boost to the football program while arousing interest for all athletic programs is achieved through the physical implementation of this new facility. Additionally, a significant emphasis was placed on the complete fan experience for all that visit the facility for a multitude of events. Included are an open air concourse with  concessions,  toilets,  first-aid and vendor spaces; two additional floors of amenity seating found in the Club/Suites levels and a playing field level with football team facilities. The Club lounge level includes: club spectator seating, vendor set up areas, personal locker room and a catering kitchen. The Suites level consists of sky-boxes with each providing premium seating, audio/visual technologies and a food service area. Both the Club and Suites levels provide an unencumbered view of the playing field.  The ground level of the facility accommodates the team facilities for football including: a football locker room, football player lounge, equipment room, officials' locker room, cheerleaders' room, training room, building support spaces and a lobby that provides controlled access to the Club and Suite levels. A large shell space was initially left for future build-out. Other improvements included renovation of the existing football field and running track with artificial surfaces. The existing east side of the stadium was renovated to house the  visitors' facilities. A landscaped Alumni Walkway with monuments along the path pay honor to teams from past eras, reinforcing the significance of history in the continuing evolution of the football program. All of these features have assisted the program in recruiting competitive athletes to fuel the up and coming Ohio Valley Conference program!
In 2016, APSU Athletics raised the funding to complete the first floor shell buildout and it was transformed into a cutting edge weight room for the Gov's football program and other athletic programs. The RJA design team completed this work  in early 2017. 
Heery International: Consulting Architect-Structural   /   DBS & Associates Engineering: Civil   /  K&S Engineering: Structural Hawkins Partners: Landscape Architecture   /   TLC Engineering for Architecture: Mech., Plumb., &  Elec.
CONSTRUCTION MANAGER / GENERAL CONTRACTOR
Bell & Associates Construction